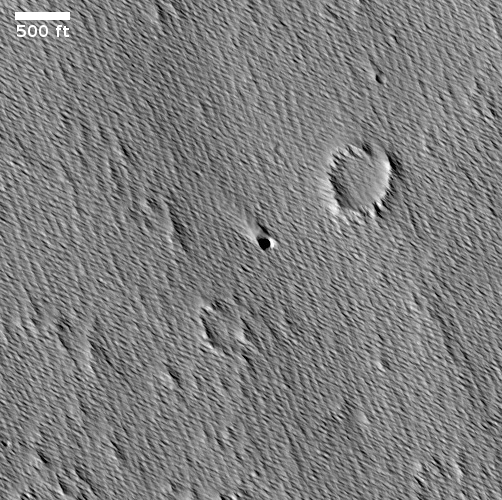 Click for full image.
It has been several months since my last Martian pit update, mostly caused by the lack of new pit images coming down from the high resolution camera on Mars Reconnaissance Orbiter (MRO). I think this lack is not because of a lack of additional pits or caves but instead signals the completion of a first high resolution survey of the known pits so far found on Mars. A full list of all past pit updates can be found at the bottom of this post.
Regardless, the image to the right, cropped to post here, is the only such image in months, taken on April 14, 2020, and shows a small isolated pit in the lava slopes between the giant volcanoes Arsia and Pavonis Mons. In the full photograph you can see how isolated is this pit. To the limits of the image there are no other such features, the terrain a relatively smooth plain with only some small ridges and and a scattering of what seem to be partly obscured or eroded small craters.
The overview below map shows this pit's relationship to the volcanoes as well as to all other known nearby pits.
» Read more