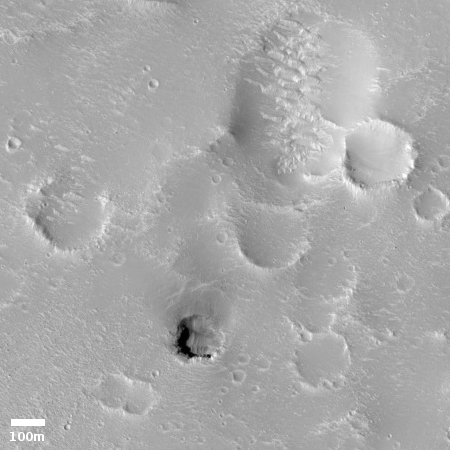 Click for full image.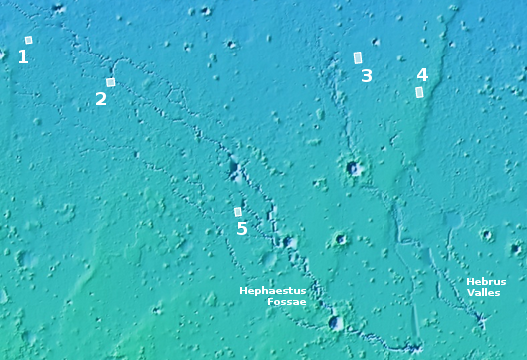 Since 2018 I have made it a point to document every new pit image taken on Mars by the high resolution camera on Mars Reconnaissance Orbiter (MRO). The list of can be found at the bottom of this post.
In the most recent release from MRO, a number of new pits were photographed. All continue to suggest that Mars has a lot of underground voids, some caused by lava flow, some by tectonic activity, some by water ice erosion, and some almost certainly caused by processes we don't yet know. The images also suggest that we have only identified a small fraction of those underground voids.
The first image to the right, cropped to post here, shows the one new pit in the northern lowlands of Utopia Planitia, near a series of meandering channels and canyons dubbed Hephaestus Fossae and Hebrus Valles.
This appears to be the fifth such pit found in this region. Previously I had documented the first four. The overview map to the right adds this fifth pit. Note how the pit is much closer to the head of Hephaestus. In the full image you can see fissures both to the north and south, as well as many nearby aligned depressions, suggesting the existence of more underground passages, some possibly linked to voids under this very pit.
The pit itself seems filled, with no apparent side passages, though to the southwest there might be something leading off in the shadows.
The overall terrain in this region, including these pits, the fissures, and the many aligned depressions, strongly suggests a lot of underground voids. As I noted in 2019:
» Read more