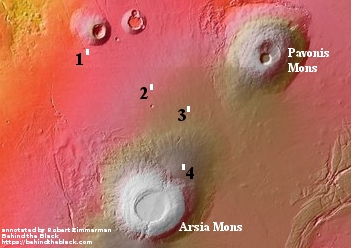 In the past year the monthly image releases from the high resolution camera on Mars Reconnaissance Orbiter (MRO) archive have frequently included newly discovered pit entrances. Each time I have written posts highlighting these new pits, in June, July, November 2018 and January 2019. In fact, this is happening so frequently I could almost label it a monthly update!
The November release imaged three pits found on the southern flanks of Arsia Mons. The January 2019 release found several north of the volcano, two of which are very close to the two middle new pits highlighted above. The February release, which is the focus of this post, included four more pits, shown above, all located north and west of Arsia Mons, as shown in the overview map to the right.
Pits 2 and 3 above appear to belong to a cluster of pits all located in the general area between Arsia and Pavonis Mons. (You can see their uncaptioned releases here and here.) Most sit alone on a flat somewhat featureless plain. Sometimes there are flow features nearby, but each pit usually seems to sit unique and unrelated to these other faint features.
Pit 1 is very intriguing in that it sits amid a very long chain of pits and canyons, all aligned, as shown in the image below and to the right.
» Read more