Summary: Curiosity ascends up steepest part of Vera Rubin Ridge, getting just below the ridgetop, while Opportunity inspects its footprint in Perseverance Valley.
Curiosity
For the overall context of Curiosity's travels, see Pinpointing Curiosity's location in Gale Crater.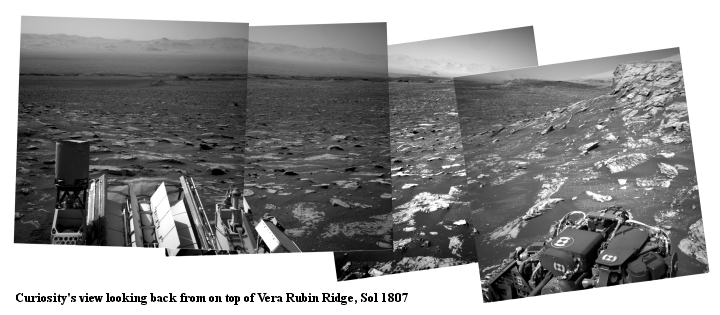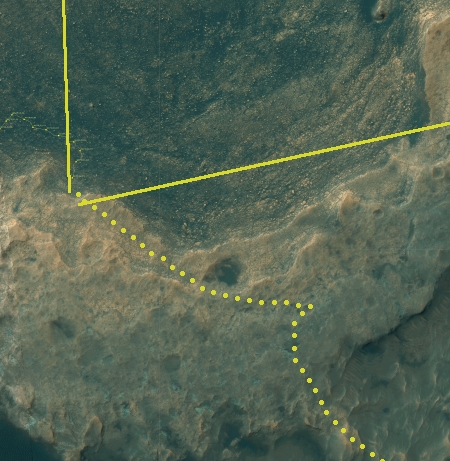 Since my last update on August 11, Curiosity has been slowly working its way along the base of Vera Rubin Ridge, and up its slope. Today's update from the science team describes how the rover is now on the steepest part of that slope, which is also just below the ridgetop. The panorama above looks east at the ridge, at the sand-duned foothills in the Murray Formation that Curiosity has been traversing since March 2016, and the crater plains beyond.
The image on the right shows Curiosity's approximate position, with the point of view of the panorama indicated. The image also shows their planned upcoming route across the Hematite Unit. As they note in their update:
Curiosity now has great, unobstructed views across the lowlands of Gale crater to the rear of the rover. The view is improving as the air becomes clearer heading into the colder seasons. The first image link below shows a Navcam view into the distance past a cliff face just to the left of the rover. The image is tilted due to the to the unusually high 15.5 degree tilt of the rover as it climbs the ridge. Part of Mount Sharp is in the background. The second link shows an image looking ahead, where we see much more rock and less soil. The foreground shows that some of the pebbles are relatively well rounded. The rock face up ahead is smooth, which will mean easier driving.
That report I think is somewhat optimistic.
» Read more