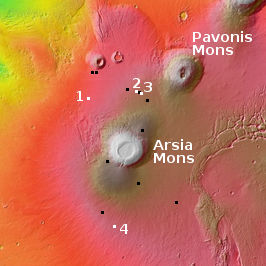 When it comes to Mars, it appears that if you want to find a pit that might be the entrance to an underground system, the place to look is on the slopes of Arsia Mons, the southernmost volcano in the chain of three giant volcanoes between Olympus Mons to the west and the vast canyon Marineris Valles to the east.
To the right is an overview map showing the pits that have been imaged since November by the high resolution camera of Mars Reconnaissance Orbiter (MRO). The black squares show the pits that I highlighted in previous posts on November 12, 2018, February 22, 2019, and April 2, 2019. The numbered white squares are the new pits found in March photograph release from MRO.
And this is only a tiny sampling. Scientists have identified more than a hundred such pits in this region. Dubbed atypical pit craters by scientists, they "generally have sharp and distinct rims, vertical or overhanging walls that extend down to their floors, surface diameters of ~50–350 m, and high depth to diameter (d/D) ratios" that are much greater than impact craters, facts that all suggest that these are skylights into more extensive lava tubes.
Below are the images of today's four new pits.
» Read more