Click for full resolution.
Curiosity
[For the overall context of Curiosity's travels, see my March 2016 post, Pinpointing Curiosity's location in Gale Crater.
For the updates in 2018 go here. For a full list of updates before February 8, 2018, go here.]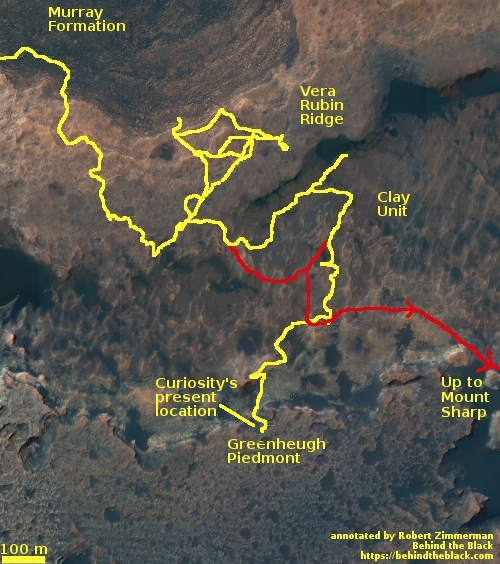 Since my last rover update on January 13, 2020, Curiosity has finally moved on from the base of Western butte, where it spent more than a month drilling a hole and gathering a great deal of geological data. Rather than head downhill and around the plateau and back to its planned route (as indicated by the red line in the map to the right), the Curiosity science team decided to push upward and onto the Greenheugh Piedmont (as indicated by the yellow line).
They had always planned to reach the top of this plateau, but not for several years. First they were going to head east to study a recurring slope lineae (see my October 2019 update), an example of a dark streak that darkens and fades seasonally and could provide evidence of water seepage from below ground.
Instead, they decided the close proximity of the top of the piedmont and its geology was too tempting. The piedmont is apparently made up of a layer that is very structurally weak, and breaks up easily, as you can see by the panorama above. It also appears to sit on softer, more easily eroded material, which thus accentuates this break up. If you look at the left part of the panorama you can see what I mean. The piedmont layer there is the thin unbroken layer sitting on what looks like sand. As that sand erodes away the layer quickly breaks into small pieces, as shown in the rest of panorama.
Traveling on the piedmont will likely be difficult and threaten Curiosity's wheels. I suspect this reality prompted them to choose to get to the top and obtain data now, rather than wait several more years of rough travel that might have made access to the piedmont difficult if not impossible.
They presently sit just below the top, and are studying their options before making that last push.
» Read more