After spending more than three months at a single site, drilling three different holes in the same rock, Curiosity is finally on the move again, heading east and uphill toward Mt. Sharp. Yutu-2 meanwhile continues its very slow journey on the far side of the Moon. And the new rovers are halfway to Mars.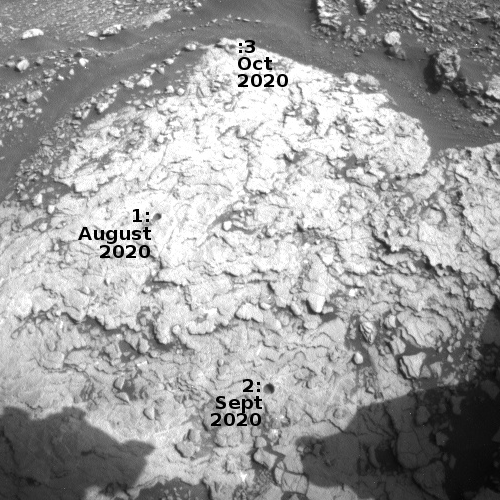 Click for full image.
Curiosity
The image to the right, cropped and annotated to post here, shows the three drill holes that scientists had Curiosity drill in this one pavement rock, dubbed Mary Anning and located in the clay unit within Gale Crater on Mars. As I noted in my last update on July 22, 2020, the rover's science team had made a specific detour in their planned route up Mt. Sharp in order to find this one last place to drill in this geological unit.
Though they have been very quiet about their results, apparently what they found in this one pavement rock was important enough that it required three drill holes. In addition, samples from the second hole were subjected to two of Curiosity's limited supply of wet chemistry experiments. From the science team's August 28, 2020 update:
» Read more