Based on the ample evidence of election fraud, corruption, and vote tampering done repeatedly by Democrats nationwide during the 2020 election, we can expect these politicians and their minions to commit similar election crimes in the upcoming 2022 mid-term elections, especially because the effort by some Republicans to reform their state election systems in the key purple states was so effectively blocked by Democrats, by many quisling Republicans, and by a willing leftist press.
It is however important to understand where that election tampering was done in 2020 in order to understand the election fraud to come, as well as creating a strategy to prevent it. As real estate agents like to say, "Location is everything!", and it appears this applies to election fraud as well.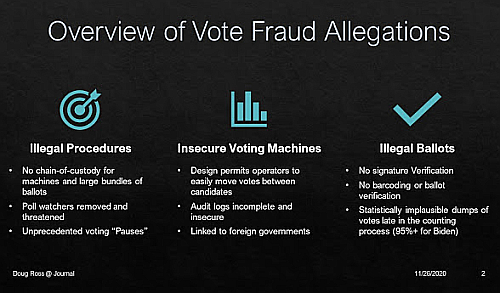 The 2020 fraud in Democratically-controlled Fulton County (Atlanta), Georgia.
In 2020, in states that were purple and where the final result was in doubt, the Democrats took advantage of their total control of the local urban voting districts in those states — where there are very few Republican voters — to tilt the results. In such places (Philadelphia, New York, Atlanta, Detroit, Phoenix) the government is essentially a one-party Democrat operation. Many election districts in these cities have no Republican election judges at all. If the Democrats wish to commit election fraud, there is no one looking over their shoulder to question them, with some districts actually taking aggressive action in 2020 to illegally keep Republican poll watchers out.
Thus we saw strong evidence in all of these cities of pro-Democrat ballot-stuffing, of all types, from fake ballots to ballots counted multiple times to evidence the votes on the ballots themselves were changed by computer. The fraud however was strongly localized to these urban centers controlled by Democrats. The vote tampering was able to tilt the statewide results. but not the local contests.
For example, Democrat mayors in Wisconsin teamed up to have drop boxes placed illegally in unsupervised locations, where Democratic Party mules could stuff them with thousands of harvested ballots. The Wisconsin Supreme Court finally ruled on July 8, 2022 that these boxes were illegal, and violated the plain language of the state's election laws:
» Read more