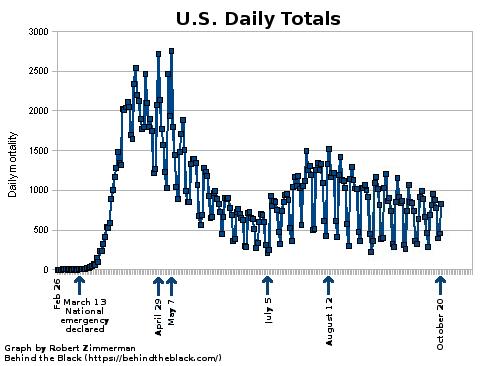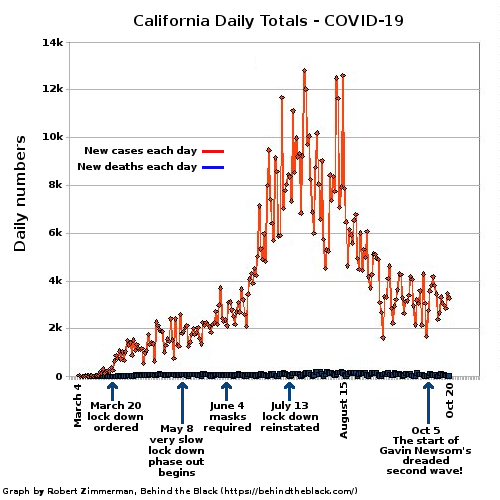 The time has come for another update on the state of the COVID-19 epidemic in the United States, mostly because the evidence, as shown in the updated graphs to the right, continues to tell us that the epidemic is dying off, both in its deadliness and in its spread, despite what some ignorant and power-hungry politicians from both political parties might be saying.
There is also no evidence yet of a second wave of the virus, something that these same fear-mongering politicians have been touting. Both the national graph to the right as well as the graph showing California's numbers below show this.
There is, however, ample evidence that the number of COVID-19 deaths in the U.S. has been corrupted in order to inflate the totals. CDC data shows almost no flu deaths in 2020, something that is simply not credible. More likely the totals of COVID-19 deaths are a combination of COVID-19 and flu deaths, with all the deaths assigned to the coronavirus because hospitals get more government money by doing so.
This combination suggests that all told this epidemic is essentially comparable to a normal flu season. The 2020 winter season was simply one in which we were hit with two respiratory diseases, one old and one new, and the two combined to make that season worse than normal.
To confirm what I have just written however I will let my new GP doctor speak for me. Dr. Robert Lending is certified in both internal medicine and clinical lipidology. Two years ago he became disgusted with the way his practice was evolving due to Obamacare and insurance requirements, both of which were forcing him to see an endless string of patients quickly, with no time to spend with each in order to make sure their needs were covered properly. As noted at his webpage,
In 2018, Dr. Lending decided to return to his roots of delivering personalized, one-on-one health care in a more intimate professional setting. He has partnered with Cypress Concierge Medicine and is now one of a limited number of physicians in the region offering membership-based concierge medicine to patients. This provides more time, attention, and VIP service than patients would experience at your average Internal Medicine provider.
As a result, when I called his office to find out if he would consider my own legitimate medical issues that strongly preclude mask use, he very quickly was willing to listen and work with me. For such concierge service you need to pay an annual retainer, which is not cheap, but based on my experience in the past month, it is well worth every penny. For the first time in more than a decade I actually feel I have a real doctor again, who will spend the time to oversee my medical issues and make sure they are taken care of. For example, I can call him anytime, and he answers the phone. With most modern doctors you never get to talk to them directly, except in your short visits. Instead you have to go through go-betweens, who act to protect the doctor rather than treat the patient.
One of Lending's services is a periodic email he personally writes and sends to his patients, in which he reviews the most recent medical news of the day. Obviously, for the past six months these updates have been focused mostly on the coronavirus, from the perspective of a doctor in the field. I think what he wrote in yesterday's email about COVID-19 is most pertinent:
» Read more